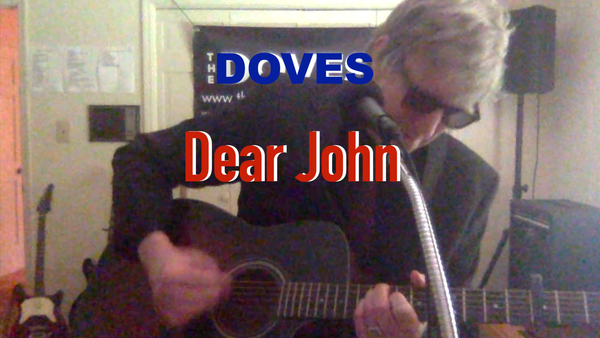 Update — June 6, 2020 
Dance — or is it "march"? — your way through the Apocalypse with The DOVES official video for "Dear John", HERE.
From the YouTube entry:
The path to peace is not through movements or demonstrations or policies or legislation.   
The path to peace goes straight through the heart of every individual. 
And it is paved by the Prince of Peace — our Lord and Savior, Jesus Christ. 
(It so happens that my daily devotional reading in the New Testament on the day I completed this video was the Epistle of James, chapter 4.  It is remarkably applicable, and linked, HERE):
---
Here is a "sneak peek" at The DOVES latest.  It is a LANDR-mastered version — the final, official version will be mastered by the incomparable Joey Stuckey, and should be available for release in a week or so (and available for download, and on all streaming formats, shortly thereafter).   
"Dear John" sneak peek video, HERE.
Our last song, "Blessed Are You", was released during Easter Week of this very strange, singular, and unique year.  It was not deliberately timed to be that way.   
This song, "Dear John", was not deliberately timed to be completed during this week of widespread and violent social and political unrest, the like of which this country has not seen in 52 years (i.e., 1968). 
It is an open letter, of sorts, to my erstwhile adolescent hero, whose last name is "Lennon".  I am a little astounded at the coincidental timing of its completion — which has been weeks in arriving at — given some of the observations expressed in the song.  To wit: 
"Dear John — well, it's a mess. 
I know you'd understand. 
Our world stands on end. 
My world is just the same. 
There's this disease, they're building armies for the fighting 
And it's all too real. 
They never listened, never wanted to, and now we know 
They never will…"
John was well-known for utilizing his unprecedented fame as one of the Fab Four to promote and agitate for world peace — though his actions and agenda were, it must be conceded, somewhat callow and naive. 
It is bitterly ironic that the harrowing events of the last week or so can be attributed to our national, societal, and cultural rejection and repudiation of the Prince of Peace — Jesus Christ. 
In place of the eternal Creator God, who is the source of our bounded and limited dimensional reality; and who entered into it, from His infinite one, in order to redeem us, and it, from the consequences of the misuse of His gift to us of free will — 
we have accepted a cultural paradigm in which we exist in a universe that is mindless and unguided, and in which all events, and our existence itself, is the result of random processes.  "Time + chance + nothing" posited to account for "everything"; dissent from this position not allowed in the corridors of power:  the academe, government, entertainment and news media. 
Is it any wonder, then, that despite happy and hollow blather to the contrary, the consequences of entrenched materialism have produced a paradigm in which we are merely advanced animals in a pitiless, indifferent universe.  "Moist robots", of no intrinsic worth or value; our rights and privileges bestowed at the pleasure of those who possess the greatest political and economic and military power; not created beings "endowed by our Creator", with those "inalienable" rights, as the founding document of my country attests. 
Friends, this will not change until we, as a people, as a race — the Human Race — accept the gift of mercy and justification and redemption made possible by the cancelling of the debt of our sins, which was "paid in full" upon that rugged Cross, 2,000 years ago. 
And that will not occur until He returns "in power and great glory". 
Until then: 
"And because iniquity shall abound, the love of many shall wax cold." — Matthew 24:12