"Maybe Tomorrow", the latest single by The DOVES, is a 3-minute blast of pop "Driving Acoustic Lyricism." "Maybe Tomorrow… is the day that we've been waiting for."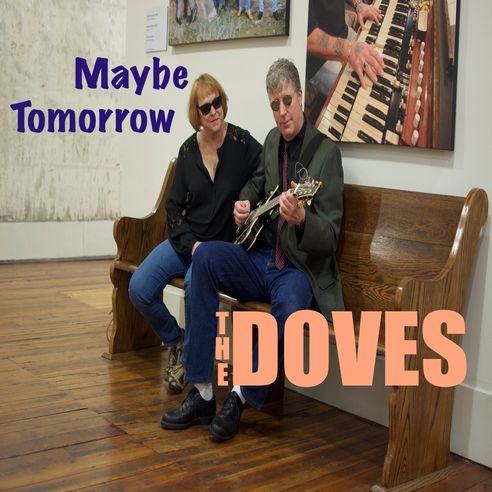 __________
I used to love going to the fair as a kid.  In Memphis, there were two:  the Mid-South Fair, in the Fall, held at the old Fairgrounds with its heirloom, rickety old wooden roller coaster, called "The Pippin" (which a quick search reveals still exists, though now relocated in Green Bay, Wisconsin); and in the Spring, there was the Cotton Carnival, held along the riverfront, on the banks of the mighty Mississip'.  
 One of my favorite rides was called "The Matterhorn" (or, alternatively, the "Ski Bob", among other names).  It was a simple concept; 2-passenger cars arrayed on a circular track, that changed a few feet in elevation over its course, making a graceful curve maybe 10 or 15 high at its apex, the circle itself perhaps 50 feet or so in diameter.  I recall being propelled backwards on the ride, at speeds approaching that of sound (at least, it felt that way).  And the cool thing was that they blasted the hit music of the day — anything from Cream to Jimmy Hendrix to Lep Zep to Grand Funk Railroad, et. al. — at airplane engine levels, with you pulling your 7 Gs and generally violating the laws of physics.  The whole affair presided over by the ride's operator, who traditionally was missing digits or limbs, or had an eyepatch, or any combination thereof.  And bore tattoos — which were not conventional, in those days. The ride was both a rush, and curiously relaxing, as its motion was a steady, elegant circuit; the only changes being the pleasant sense of acceleration and deceleration to and from its top speed.
For some reason, that ride is what I think of when I listen to "Maybe Tomorrow".  I think it would be a good fit for it, blasting out over the sound system in accompaniment to the breezy blur of high momentum. 
______________________ 
 "It is our duty to be optimistic — but the pessimist has more information."  
 "Maybe Tomorrow" things will look better than today.  "Maybe Tomorrow" will be a brighter day.  "Maybe Tomorrow" all your work will finally pay.
 Or maybe today…
 The song features Trena's characteristically strong vocal, and is the most nearly a truly co-written effort and collaboration to date.  We've had songs that I've written, that Trena has sung (e.g., "Why Don't You Love Me?").  And songs written by Trena, that I've had a hand in arranging ("Everybody's Happy But Me", "Why Did You Hurt Me?", "Kiernan').  And, of course, Trena has been strongly involved in all the songs, from a creative standpoint — lyrics, structure, harmonies, etc.  But "Maybe Tomorrow" is a song that has been kicking around in my repertoire for years.  A while back, I had trotted it out, and Trena began singing alternate verses to it.  Soon, we had re-structured the song to make it her own, and began playing it live (for instance, at Joey Stuckey's inaugural "Alive Day" street festival — that's us in the background, playing it on the local news, HERE).  Now it's recorded for posterity.  And for amusement park rides the world over… 
 "Maybe Tomorrow" video, HERE (also as widget on right side of page)
 facebook, HERE.
________________
Words and Music:  W. Wade and Trena Stooksberry
Vocals: Trena
Guitars, bass, vocals:  Wade
Drums: Max Machineman
Masterfully mastered by the incomparable Joey Stuckey (Shadow Sound Studios)